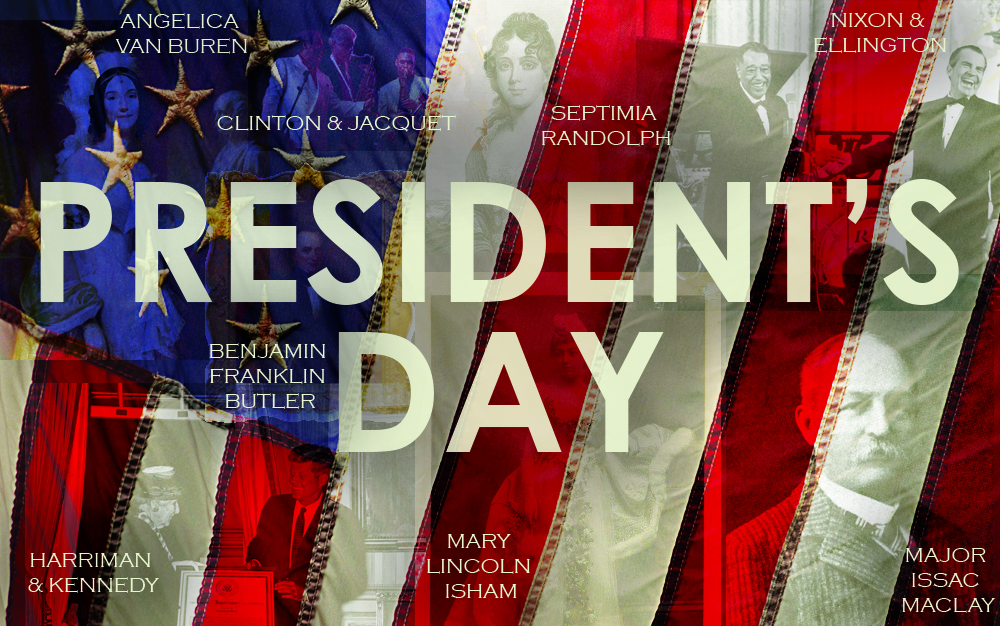 Happy Birthday Mr. President!
Everyone is familiar with the film of Marilyn Monroe standing on the stage in Madison Square Garden, singing to President John F. Kennedy on his birthday. Woodlawn notable, Leroy Neiman (1921-2012) painted a very colorful and splashy canvas to chronicle the event. Many Woodlawn Lot Owners connect to our Commander in Chief and the First Family. So let's celebrate the National Holiday by sharing their stories.
Every newly elected President acknowledges the President they most admire. President Trump talks about the personality of Andrew Jackson, the "President of the Common Man." Jackson's appointee for Attorney General, Benjamin Franklin Butler (1795-1858) was moved from Green-Wood Cemetery to a prominent location in Woodlawn. President Obama's hero, Abraham Lincoln, has several Woodlawn connections. When he was shot in 1865, Major Issac Maclay (1840-1908) was among the eyewitnesses who carried the President from the theater. Lincoln was known to have bad feet; the man who made the size 14 boots he wore that fateful evening was Dr. Peter Kahler who is buried in the Crown Grove Plot.
The Woodlawn residents who were most familiar with life in the White House were the son and daughter in law of President Martin Van Buren. Prior to taking office Van Buren lost his wife. His son's wife Angelica (1816-1877) filled the position of First Lady, acting as hostess for the nation's most famous residence. There are five members of the Van Buren family resting in the Ivy Plot, not far from Herman Melville and Archibald Gracie.
There are several Woodlawn Lot Owners who are the descendants of Presidents. Abraham Lincoln's granddaughter, Mary Isham (1869-1938) rests in the Prospect Plot, Thomas Jefferson's granddaughter, Septimia Anne Randolph Meikleham (1814-1887), lies under a simple cross in the Prospect Plot overlooking the lake. Septemia ran a boarding house in New York City, and made a well-publicized attempt to get pension from the government for being a member of the first family.
A few Presidents have participated in Woodlawn funerals. On October 1, 1870, the 18th President of the United States, Ulysses S. Grant visited The Woodlawn Cemetery. Grant, a hero of the Civil War, was among the distinguished guests who rode the funeral train that transported Admiral David Glasgow Farragut's remains to the grave.
In 1904, President Grover Cleveland made his first trip to Woodlawn. He served as an honorary pallbearer when William Collins Whitney (1841-1904), who served as his Secretary of the Navy was laid to rest. Two years later when his Secretary of War, Daniel Lamont (1851-1905), passed away Cleveland came back to New York for the funeral. Lamont commissioned architects Little and O'Connor and artist John La Farge to build his impressive family mausoleum.
Many Woodlawn notables were honored by US Presidents. President William Howard Taft appointed Charles Evans Hughes (1862-1948) to the Supreme Court. Hughes ran for the presidency against Woodrow Wilson. Cornelius Bliss (1833-1911) was Secretary of the Interior under President William McKinley. One time suffragist and activist Florence Jaffray Harriman (1870-1967) received a Citation of Merit for Distinguished Service from President Kennedy. Edward Kennedy "Duke" Ellington (1899-1974) received the Presidential Medal of Freedom on his 70th Birthday from President Richard Nixon. The "Queen of Salsa," Celia Cruz (1925-2003) received the National Medal of the Arts in 1994 from President Clinton. On May 28, 1936, President Franklin Roosevelt awarded the Congressional Gold Medal to George M. Cohan (1878-1942). He was the first entertainer to receive the medal; he was acknowledged as the composer of "Over There," and as an American with the "ability to instill in the hearts of the growing citizenry a loyal and patriotic spirit for their country." The first recipient of this honor was General George Washington in 1776.
There are also some rather unique presidential connections. Illustrator Thomas Nast (1840-1902) is credited with influencing US Grant's successful campaign through his critical cartoons of Andrew Johnson. James Montgomery Flagg (1877-1960) drew extraordinary portraits of Theodore and Franklin Delano Roosevelt. When President Eisenhower headed Columbia University, his executive secretary was New York native, Margaret Hakimian (1931-2017). In 1964, when jazz trumpet player Dizzy Gillespie launched a campaign for the nation's highest office, he announced that if elected President, he'd appoint Miles Davis (1926-1991) as head of the CIA!  President Bill Clinton played saxophone for Lionel Hampton (1908-2002) on his 90th birthday: his predecessor President George Bush (41), delivered the eulogy for his good friend Lionel Hampton.
Woodlawn continues to have an important place in our nation's history and with every Presidency there will be musicians, artists, publishers and politicians in our care associated with the White House. As we know, there's always a Woodlawn Connection!